Snake River
June 16, 2022
The snake river is currently at high water. Our snow in the mountains is holding on. This means we will have a great float season this year. We are expecting consistent flows from the dam at Jackson Lake which will help out the fish tremendously. So far it has been a cold and wet spring, meaning the river isn't quite ready yet. We are hoping the river will clear by the end of the week. Us locals look at the mountains to gauge the runoff. When Glory Mountain is free of snow, the snake will be close to ready. When Rendezvous bowl is free of snow the snake will be fishing as it should.
June 23, 2022
Today was the first day the Snake fished well since runoff began. The water temperature is just right, and the flows are evening out. We need the visibility to clear up a little before we start fishing dry flies, but streamers and nymphs are working for now.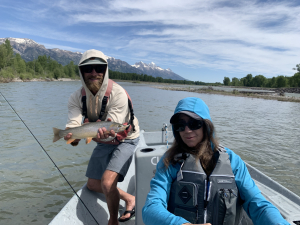 Green River
The Green is fishing really well. It is a full day to go to the green and back. Fishing on the Green is challenging, with small targets and picky fish but the rewards can be great. As the river has dropped, fish have started feeding on worms and large streamers. The worm hatch is a real thing on the Green and the fish are currently fat and happy. As the river clears and drops more, we will start fishing dry flies. Golden stones and gray drakes will be our best bet to get the big fish to rise. Floating the green is comparable to playing the Pebble Beach golf course; it is a beautiful and classic example of fly fishing a challenging mountain river. Old fly patterns work great and new ones work better (maybe). The Green will fish consistently through the month of July.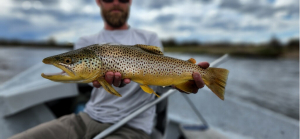 Fish Creek
The Creek is fishing well, as it usually does. Fish Creek is a tributary to the snake and sees a push of spawning cutthroat every spring. A lot of those fish become residents of the creek and will stay there all summer. It is your best chance to catch a 20-inch native cutthroat trout in the valley. It is a spring creek that has clear water and spooky trout. We typically fish light line to rising trout heads. An accurate cast of about 40 feet is necessary. The Creek is not beginner-friendly, as it is very technical and demanding. Fish Creek is loaded with mayflies, stoneflies, caddis, and crane flies. We mostly fish dry flies, though the dropper can be effective if the fish are not actively feeding on top. Private water opens a window to the past. To see what fishing was like 30 years ago, book a trip with us on Fish Creek.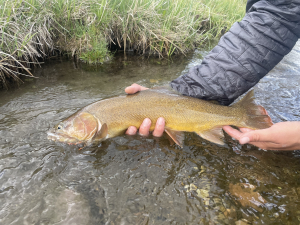 Lake Creek
Lake Creek is a great option to fish while the snake is high and muddy. Lake creek sees a push of migratory fish and is still the creek where I've caught my largest cutthroat trout. Quality over quantity is the name of the game. Fishing lake creek feels like hunting, you must cover the water and be ready when the opportunity presents itself.
Salt River
The salt is a freestone river (no dam) that flows out of the mountains into palisades reservoir in Alpine, Wyoming. It's about an hour's drive from Jackson and can be a great river to fish when all necessary factors align. We typically fish dry flies for native cutthroat trout on the Salt. There are also brown trout that live in palisades reservoir and come into the river to spawn in the fall. They usually become residents of the river and you could catch a very large brown trout any month of the year.
Flat Creek
This creek is a great option this time of year. This is a wade fishing trip like fish and lake creek. Flat creek is public water and offers amazing fishing opportunities. It can be challenging fishing, as you are working tight channels with high, grassy banks. Light line to large native trout. This time of year, we will be fishing dry flies and matching the hatch. If there is no hatch, we typically fish dry dropper.
Come visit the Fly shop and get more specific information on fly patterns.
https://grandfishing.com/wp-content/uploads/2022/06/IMG_4981-scaled.jpg
2194
2560
Josh Casteen
https://grandfishing.com/wp-content/uploads/2021/06/Grand-Fishing-Adventures-Logo-white.png
Josh Casteen
2022-06-23 14:19:05
2022-06-30 11:44:15
June 2022 Fishing Report